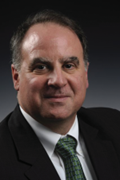 Mr. Fioravanti brings over 25 years of experience working with emerging energy technologies in both commercial and consulting roles. He has worked with major manufacturers, utilities, state/federal agencies, and developers to understand and deploy advanced energy systems. He currently focuses his efforts on electric transportation, EV infrastructure, and technology electrification – evaluating electricity grid impacts and linking the technologies to grid modernization, utility of the future initiatives. For electrification, he is currently leading efforts to examine load impacts for airport and seaport electrification.
Mr. Fioravanti also was a founding Board Member of New York BEST (Battery and Energy Storage Technology Consortium) and served on their Board for five years. In this role, he helped create the NY-BEST Energy Storage testing lab for the organization. He has authored several papers on advanced storage technologies and has been cited frequently as a leader in his field.
He received his M.B.A and a B.S. in Electrical Engineering from the University of Southern California.